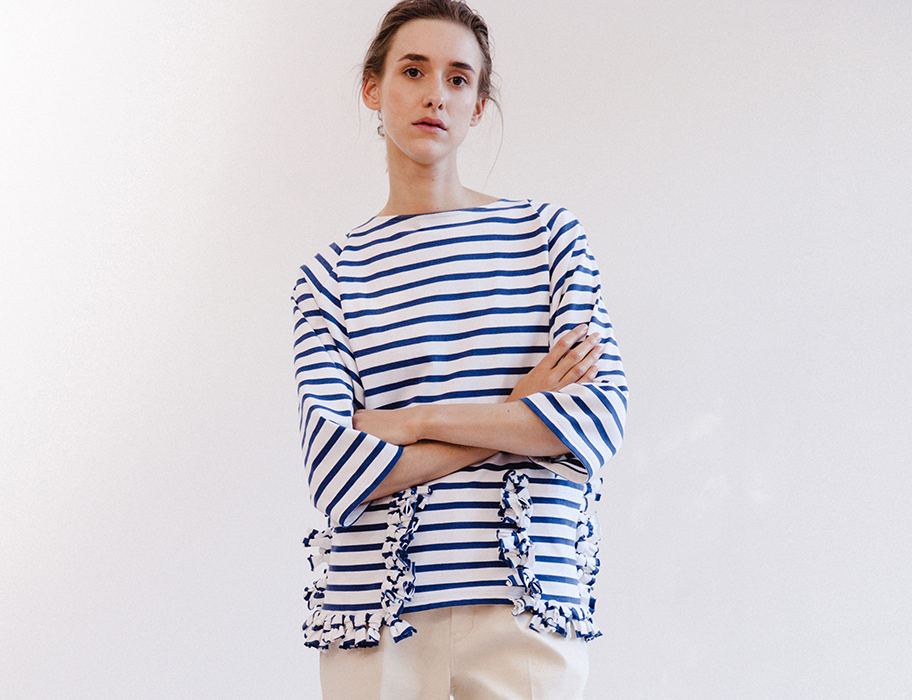 Continuing the championing of ease and relevance she debuted for Autumn/Winter 2015, this season Ports 1961 creative director Natasa Cagalj examines uniforms, and reinterprets the idea of what workwear could mean today. The collection strives to cater for the everyday lives of women, and in the process gives a fresh take on workwear, elevating what that could mean today.
Looks derived from menswear are reimagined into something sensual and special.
"For this collection we tried to capture the beauty of the design process. As designers, we come across so many beautiful swatches, trials and colour cards every day. These raw tools have such an unpolished elegance. We wanted to capture their spirit, embracing the mistakes and coincidences as we designed" says Natasa.
A kind of playful spontaneity underpins each piece in the collection. Swatch cards become colourful embroideries - for instance, a blanket composed of numerous colour swatches is used in its entirety to make artisanal fringe pieces that nod to agricultural workwear from around the world that defies convention. Elsewhere calico, traditionally used to make toile prototypes, is elevated into something special in the form of rich, sculptural outerwear. Vibrant scalloped edges decorate more utilitarian pieces, while colourful scribble prints recall artists' overalls.
The shirt is the foundation of the Ports 1961 brand, and this collection seeks to build a wardrobe around this idea. Utility pieces are rendered in fresh cotton poplin and put together as a total look, lending them an unexpected new ease and lightness. Layering and playful details further modernize the silhouette.
The colour palette moves from fresh shades of white and calico, with bursts of brighter colour in scribbles or scallop-bound edges, through to an array of flattering blues and rich greens. Everything can be combined, all the colours work together. The surprises come in the details. Working with leading Italian factories and fabric mills, the collection is rendered in the finest fabrics and finished to the highest level. Fabrics have been developed specially for the collection, including a cotton voile inspired by a 19th century men's shirt, mohair suiting, luxurious wool, cotton woven like silk ottoman to represent calico and traditional pinstripe shirting. Looks are finished with a selection of easy, simple shoes - real wooden heels keep with the collection's elevated yet clean elegance.
Please click here to view the collection.